car repair services for west michigan
We do service electric & hybrid vehicles
Precision Collision Alignment & Brakes is located in Zeeland, Michigan and provides a complete line of car, SUV, & pick-up repair services.  Our services include general auto repair for cooling systems, fuel systems, wheel alignment, suspension systems, as well as normal routine car maintenance services.
Does your car make a high-pitched squeal or grinding noise when braking?  Allow us to perform a full inspection of your brade pads, rotors, calipers, fluid level, and brake lines.
We provide a full lube, oil and filter change for domestic & foreign vehicles. Standard service includes up to 5 quarts of conventional oil,  filter, and a multi-point inspection of your vehicle.
Check engine come on?  Let us provide a quick diagnostics scan.  Many times it's an oxygen sensor, catalytic converter, or plugs & wires.  Give us a call at (616) 396-8386 to schedule an appointment.
Our team performs a number of air conditioning system checks each year.  We'll check pressure readings, coolants levels, & review our findings with you.  Our team can evaluate leak issues & replace components (if necessary).  
Vehicle pulling to the left or right?  We do 2 & 4 wheel alignments at some of the best prices in West Michigan.  Our standard 2 wheel alignment starts at $80.  We also do ORV alignments for vehicles with lifts & tires up to 42 inches. 
Your car's suspension system is responsible for delivering a comfortable ride.  Our team will inspect your tie rods, ball joints, control arms, sway bars, struts, shocks, & springs.  Please call (616) 396-8386 today.  
Cars, Pick-ups, & SUVs require periodic tune-ups in order to maintain fuel mileage ratings & overall performance.  Recommended intervals will vary depending upon your make & model.
Whining noise from rear of the vehicle? Difficulty starting your vehicle? Engine sputters at higher speeds?Lower gas mileage?  These are all signs your fuel pump may be going bad.  Let us do a complete inspection of your entire fuel system today!
Our team does general repair on all systems in your vehicle with the exception of exhaust.  This includes radiators, water pumps, thermostats, hoses, wheel bearings, front & rear differentials, brake lines, brake boosters, and more.

we service electric & hybrid vehicles
A car tune-up is considered routine maintenance to keep your car, truck, or SUV performing well.   A tune-up includes inspecting several key components including your ignition system, engine air filter, fuel filter, pcv value, belts & hoses, timing belt, and checking all of the fluid levels.
Our standard tune-up includes:
Signs you may need a tune-up: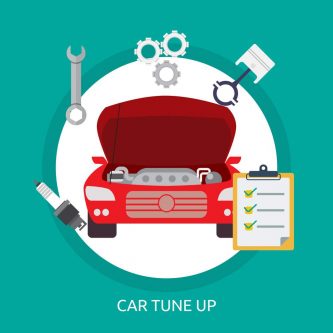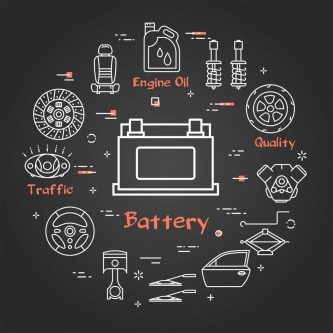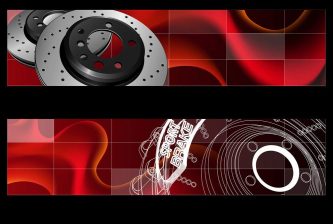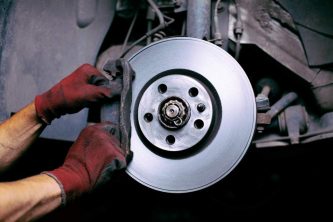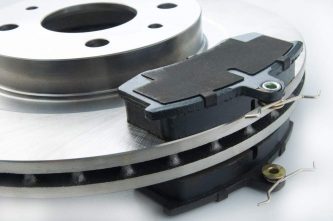 Vehicle braking systems have several components but "Brake Pads & Rotors" are the two you'll have to replace as a normal maintenance item.  On average, brake pads will last about 40,000 miles and most times you'll want to replace your rotors at the same time.
Each scenario above is likely an issue with your brake pads & rotors and we recommend changing both at the same time.  Brake Pads & Rotor replacement is a normal maintenance task for any vehicle.
Our complete line of Brake repair services:
Precision Collision does all types of general repair for cars, pick-up trucks, & SUVs including electric & hybrids.
Expertise in the following areas: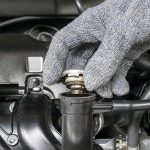 Radiator Repair & Hose Replacement
Radiators are a key component of your car's cooling system and is basically a heat exchanger. It's main purpose is to keep your car engine at a desired temperature.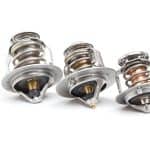 The thermostat is used regulate the temperature of your engine. Its basic job is to block the flow of coolant into your radiator until your engine reaches it operating temperature (usually about 200 degrees F). Thermostats fail due to age and can stick in the open or closed position.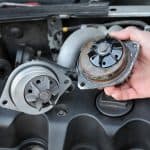 Water pumps ensure coolant is constantly moving through your engine block, radiator & hoses, and assists your car is keeping an optimum operating temperature.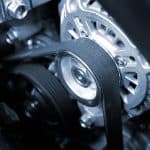 Timing Belts, Chains & Timing Covers
In short, a timing belt (called a timing chain in older vehicles) keeps the camshaft & crankshaft synchronized. The camshaft operates valves which let allow air & gas to flow and the crankshaft moves the pistons. Timing covers simply protect the timing belt, chain, or gears inside it.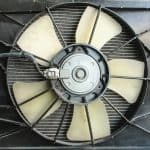 Fan Clutches & Electric Cooling Fans
Engines generate heat and require the assistance of cooling fans to prevent overheating. Vehicles can have clutch, flex, or electric fans. Failing fans can be noisy, run at full speed all the time, or you'll simply notice your car operating at a higher temperature than normal.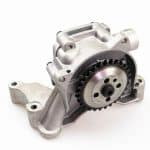 An oil pump is the most important part of your engine's lubrication system. It simply pumps oil from the oil pan to several oilways inside the engine. You may see the oil light come on, hear your engine more than normal, or notice your temperature guage is running high.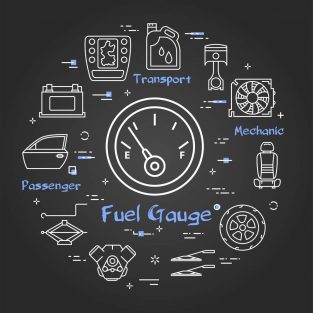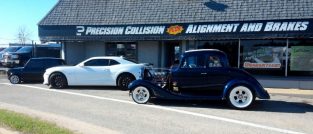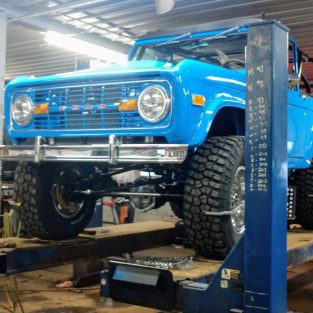 Precision Collision provide a complete line of service for fuel systems including fuel pump replacements, fuel filters, fuel injectors, and fuel line replacement.
Expertise in the following areas: